---
Click
here
for map to the studio.
Welcome to Dance Connection Ballroom Dance Center, central Mississippi's largest and most popular social dance studio with the best private & group dance instruction from the state's most experienced teachers. We offer private and group lessons and hold a weekly dance party to allow you to practice your dancing in a dance club atmosphere. Wedding dance lessons are also available. There are no contracts or long term commitments and you are never pressured to continue. Learning to dance has never been so fun, or easy! No partner necessary.
Call 601.932.2374 for more information.
---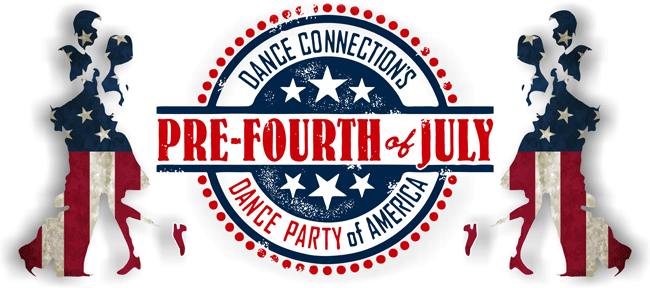 This Thursday,
June 30th
join us at our pre-
4th
of
July
party!


The evening will feature patriotic decor, complimentary refreshments and the best dance music available.
Dress in Red, White and/or Blue or whatever makes you feel like dancing.
East Coast Swing class from 7-8 p.m. Dance Party from 8-9 p.m. $ 10 per person
---

Our group class lessons for June feature the East Coast Swing.
East Coast Swing, also known as triple step Swing, is Ballroom Dancing's version of the Lindy Hop.
Comprised of rock steps and triple steps, it is one of the most useful of all the dances we teach.
Classes are from 7:00-8:00 pm.

Thursday, June 30
is for those who are comfortable with the basics of East Coast Swing.

Our weekly "practice" Dance Party follows the class and is included with the class fee.

Dance party from 8:00-9:00 pm. No partner necessary. $10 per person for Class and Dance.
---